For many people, the lingering smell of cigarette smoke inside the house can be extremely unpleasant. In fact, particles from the smoke can remain on your interior surfaces for years and be sucked into your heating and cooling systems. If this happens, the smoky odor will spread throughout your home and affect the quality of your indoor air. Here are some tips from an air conditioning repair company that can help you get rid of cigarette or tobacco smoke in your home.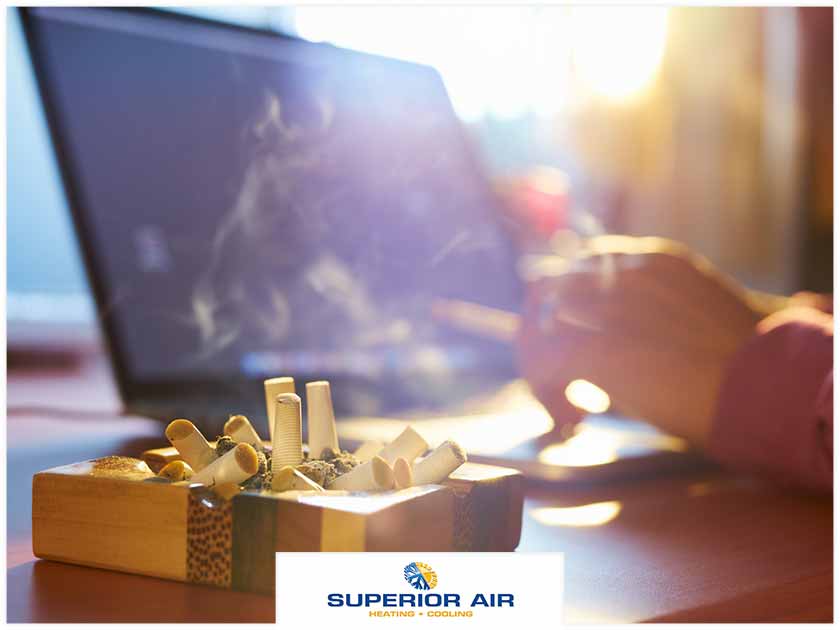 Install HEPA Filters in your air conditioner. There are no AC filters specifically designed to eliminate cigarette smoke. However, you could significantly reduce the pollution caused by cigarette smoke if you install a HEPA filter on your air conditioning unit. This filter can trap air contaminants, including tobacco particles, that other standard filters can't.
Invest in an air purifier in your home. Since cigarette smoke is toxic, most air purifying systems are unable to fully remove its harmful pollutants from the air. Nevertheless, an air purifier can still help eliminate visible white smoke and reduce strong odors. Professional air conditioning installation contractors recommend choosing a high-quality air purifier with a HEPA filter for the highest level of pollutant filtration.
Use houseplants to improve air quality. Some houseplants act as natural air purifying agents. They can remove contaminants from the air and add an element of nature to your interior design. Philodendrons, bamboo palms and peace lilies are some of the best plants for absorbing toxins in the air.
Schedule AC maintenance regularly. A regular schedule of preventive air conditioning maintenance is important whether a person is a smoker or not. However, if you usually smoke indoors, your air conditioner and air ducts will contain a higher amount of pollutants than the average home. Not only will this reduce the lifespan of your unit, it will also make your air conditioner less efficient. Fortunately, an HVAC technician will be able to detect small issues before they compromise your system and become more costly to fix.
Superior Air is a team of technicians specializing in heating and air conditioning services. We work with residential and commercial clients in and around Tulare, CA, to provide quality repair, installation and maintenance for HVAC equipment. Call us today at (559) 734-2002 or fill out our contact form to set up an appointment.