A common issue many homeowners experience when using a furnace or heat pump involves its fuse blowing frequently. This is an indication of an underlying problem within the unit, and when this happens too often, you must take immediate action to protect your investment. Here local heating and air conditioning installation contractor Superior Air discusses the reasons the fuses of heating systems blow repeatedly.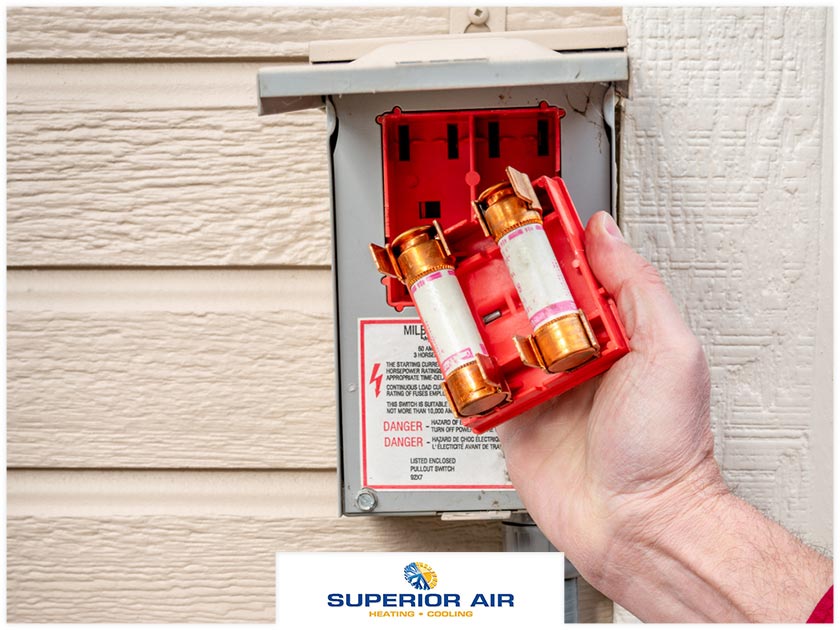 Accumulation of dirt and dust. Keeping your heating system well-maintained is vital to its long-term performance and efficiency. However, if you haven't been diligent about this important aspect of your investment, most of its interior components have probably collected dirt and dust. Over time, grime coming from the air filter can find its way into the blower motor, creating a domino effect that will ultimately end in the furnace or heat pump turning off because of a blown fuse.
Loose wiring. A furnace vibrates naturally during operation, which can lead to wires coming loose over time. If this happens, an electrical short could occur and cause the fuse to blow. A heating and air conditioning maintenance technician can help locate and fix the loose wire. Also, regular inspections help keep the wiring tight and secure.
Reduced airflow. A heat pump that doesn't provide adequate indoor heating could be causing low airflow due to undersized ducts and blowers or incorrect control applications. This could also be a result of voltage fluctuations or dirty filters. A malfunctioning blower can cause the heat pump to experience an overvoltage, resulting in a blown fuse.
At Superior Air, our trusted technicians are highly capable of making the proper decisions when repairing and maintaining your heating and cooling systems. By taking preventative measures, we can fix an ineffective HVAC system without you having to buy a new one.
If you need heating and air conditioning repairs, give us a call at (559) 734-2002. You may also fill out our contact form to schedule an appointment. We serve homeowners in Tulare, CA, and the surrounding communities.