With most people spending more time at home due to the ongoing pandemic, many homeowners are looking into investing in an air purification system. If you're like them, you may have come across a product made by top HVAC manufacturer Carrier®.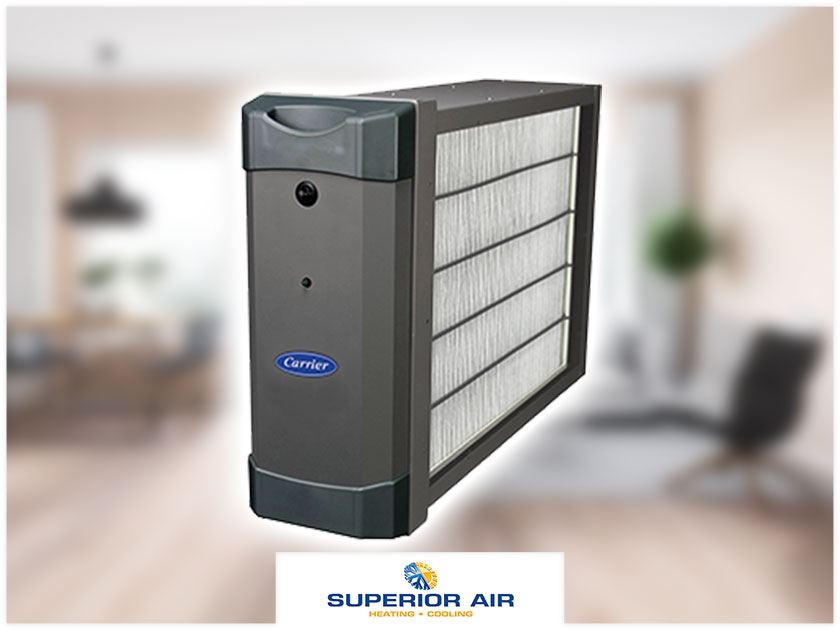 Called the Carrier Infinity® Whole-Home Air Purifier, not only will this unit help you breathe easier and ensure a healthier home, it can also minimize the threat of the coronavirus. Local heating and air conditioning installation contractor Superior Air discusses its features and benefits below.
Three-Step Operation
The Infinity air purifier can be combined with most heating and cooling systems made by Carrier or others. It treats the air flowing through the HVAC unit's air handler via a three-step process referred to as Captures & Kills® technology.
First, electrically-charged ions are released to form a "cloud." Then they attach themselves to airborne particles that pass through the air purifier. The ionized particles are pulled towards the oppositely-charged pleated filter, capturing the contaminants at a high rate. Finally, the trapped particles are subjected to an intense electric shock, which inactivates them.
Advantages of Owning an Infinity Air Purifier
Heating and air conditioning repair contractors recommend the Carrier Infinity Air Purifier for various reasons. For one, it utilizes the same technology currently used in hospitals and government facilities. Since it operates quietly, you can keep it running overnight without disrupting your sleep. It also doesn't require extensive maintenance. The cartridge only needs to be replaced after a period of six months to a year. A brush is all you need to clean the air purifier's ionization array.
The most important advantage of the Infinity Air Purifier is its ability to inactivate 99% of select viruses and bacteria trapped on the filter. In addition to dust, pollen, pet dander, mold and other airborne contaminants, it can trap viruses that cause the common cold and flu. It can also filter out various types of coronavirus, including the one that causes COVID-19. This was confirmed through testing conducted by the University of Colorado on the murine coronavirus, which is closely related to SARS-CoV-2.
Superior Air provides top-notch heating and air conditioning maintenance for home and business owners in the local area. Call us today at (559) 734-2002 or fill out our contact form to schedule an appointment. We serve homeowners in Tulare, CA, and the surrounding communities.