Your furnace depends on an air filtration system to keep contaminants like dirt at bay. You need to clean or replace the filter regularly to avoid suffocating your heating unit, which can result in performance problems.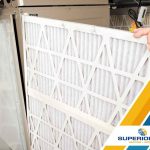 Although you can handle such maintenance duties on your own, knowing how to remove and install a filter isn't enough. Here Superior Air shares some key things you should understand about furnace air filters:
They're not equal. Honest furnace and air conditioning repair experts will tell you that air filters come in different materials and have different efficiency ratings. The best ones can trap up to 99% of particles as small as 0.3 microns. Most, but not all, air filters are disposable. Investing in a highly-efficient, washable product, however, can save you money, especially when you use your furnace a lot.
They require a perfect fit. Be particular about the size of your air filter. Buying something that doesn't fit the filter cabinet will affect the performance of your HVAC system. Any furnace and air conditioning installation specialist, like Superior Air, would agree that an improperly- sized filter might restrict airflow.
They can clog sooner than expected. Normally, you should change or clean a dirty air filter once every three months. You may need to do it more frequently, though, if the product is of low quality.
Your HVAC system's need for furnace and air conditioning maintenance can increase due to a number of factors. The more occupants and pets there are in a home, the more frequently you'll need to replace the filters. Events that could affect your home's indoor air quality–like remodeling–shouldn't be overlooked either.
If you have a furnace problem you can't fix with a new air filter, call in Superior Air for help. Contact us at (559) 342-0023 now to request service in Tulare, CA, or any nearby area.